---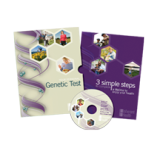 Get the weight-loss answers you need with the Weight Management Genetic Test from Inherent Health.
Now for the first time ever, listen to your genes and cut through the clutter of weight loss advice.
People are different. What works for other people may not work for you. Thanks to a breakthrough in genetic science, discover which weight loss plan may work best with your personal genetics – diet and exercise more properly matched to your body, so you can improve weight loss and enjoy results.
No more guessing! Whether you're at the grocery store, dining out or snacking at home, your genes can help you choose smartly. Pasta or steak? Peanuts or pretzels? A brisk walk or light jog?
Your genes can tell you.
---
Genetics play a huge role in weight management- up to 70% of middle age weight gain is due to genetic factors. Yet 2 out of 3 people may be on the wrong diet for their genetics. The Weight Management Genetic Test is a unique new way to match your diet and exercise to your personal genotypes, giving you a better chance to lose more weight. What's the right amount of carbs, fat and protein for your body? Do you need to exercise at high intensity, or can you get away with a moderate workout? Don't guess-gain insight with this simple test.


Take the test in the privacy of your own home its quick and easy, just a swab of your cheek. Then simply drop your sample in the mail to our CLIA-certified lab. Your privacy is guaranteed.

The test analyzes 5 variations in 4 genes (FABP2, PPARG, ADRB2 and ADRB3) known to affect weight loss, then recommends a plan based on your specific DNA.


Receive your personalized Test Report and Results Guide, featuring the most effective type of diet and exercise for your genotype.


Recommendations are written in clear everyday language, not scientific jargon, so it's all easy to understand.
Finally-you'll get the answers you need to see results faster, stay confident and motivated, and take control of your weight.